Our history
Company creation

Satmar was created when American flat oyster farmers met investors who were passionate about aquaculture with a view to bridging the gap in terms of a lack of spat.

Introduction of Manila clams

Satmar's Yves Le Borgne and CNEXO introduce Manila clams to France, at the Île Tudy.

Satmar invents clam farming

Creation of clam farming in the Îles Chausey

The first European triploid oysters were born at Satmar

Start of production of 18-month-old oysters in Landeda (29).

Acquisition of Jansens,

which has since doubled in size. It produces and ships its oyster production under the name of the Oyster Gardens of Tatihou

Transfer of the company

Mr. and Mrs. Goelet, the last representatives of Satmar's founders, pass on their company to their grandchildren.

Olav Goelet became CEO of Satmar,

taking over from his grandfather.

A trade
Mollusc hatcheries, which began on the other side of the Atlantic in the late 1960s, arrived in France in 1972. Although the techniques used have evolved considerably since then, the aim has remained the same: to provide shellfish farmers and their customers with high-quality spat while controlling natural risks.
Safe production
Molluscs are, above all, living products, which are sensitive to changes in the environment: rising temperatures, falling PH, risk of pollution... Hence, our culture of maximum safety, which is reflected in the diversity of our locations in protected areas, and by our ceaseless vigilance at all stages of the farming process.
High levels of expertise
Ensuring high-quality, regular production while making the best use of nature's resources requires passionate, committed and highly qualified staff using the latest shellfish farming technologies.
Boots, not white coats
As a hatchery, we are first and foremost breeders, working in the natural environment, in some of the most stunning locations in France, for which we feel responsible. We work as closely as possible with our animals. We feed them and select them, giving them the maximum space so that they can develop calmly and peacefully.

A philosophy
Forty-five years of experience and our keen sense of observation have taught us that in breeding, it is essential to give animals time and space to grow, develop and flourish naturally, and that rigorous cleaning is as effective as any antibiotic. The sea provides all the answers to our questions if we know how to listen to it carefully. It is this philosophy which guides our work every day.

Key figures
First producer of clam spat in Europe
First clam hatchery in Europe
First European company to produce triploid oysters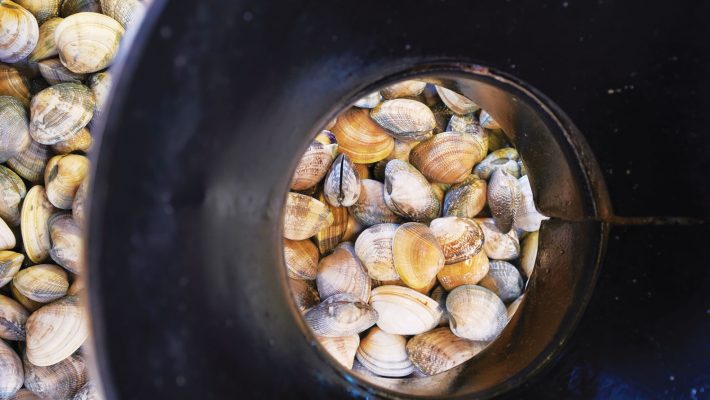 Created in 1972. Oldest hatchery in France
80 employees
9 sites
2 hatcheries
6 nurseries
3 shipping centres
Turnover 2017: €9,921k